Panama is blessed with some of the most beautiful tropical beaches in the world on both the Caribbean and Pacific sides. Many travelers and beach lovers are happily surprised to find that many beaches here are still in their natural state, pristine and untouched. For those who are looking for fun, relaxation and adventure, there are also expansive luxury resorts, world class surfing, fishing, diving and all the sun you will ever need. The following list in no way encompasses all the beach locations in Panama, however, this is a good start of some of the popular beaches with, with nearly all accessible by car, short ferry ride or a quick flight within the country.
Lets get started!
San Blas Islands (Comarca de Kuna Yala)

The San Blas Islands are located in the north east of Panama, right in the Caribbean. These relatively untouched, sparsely inhabited islands and coral
reefs are a long sought after vacation paradise for almost everyone interested in traveling the Caribbean. Made up of approximately 378 islands, most of which have been kept in their natural state with some friendly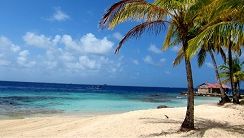 aboriginal inhabitants called the Kuna located throughout. Transportation is generally by boat between the islands with some small airports located close by.
There a multitude of beaches, where you can expect to find white sand leading into the crystal clear turquoise waters, which swimming, snorkeling, diving and sailing are some of the most popular activities in the area. There are a few small hotels and Inns available, some offer tents for a more rustic style of Caribbean vacationing as well!
Isla Grande

Caribbean island beaches await the secluded tropical island of Isla Grande. Just a quick ferry ride from the town of La Guaira, just
past the historic town of Portobelo. Isla Grande comes equipped
with gorgeous white sand beaches, great swells for surfing, eco lodges, small hotels such as Bananas Resorts, Villa En Sueno and some tasty restaurants to try out as well.
Fishing, snorkeling, diving, and relaxing on the beach await and being only about 2 hours from Panama City (give or take), makes for a great weekend retreat or vacation spot anytime.
The fresh tropical Caribbean breezes, beautiful breath taking views, laid back island atmosphere and the fresh warm waters of the Caribbean make this a glorious beach paradise.
Expect to have everything basically located right on the beach as much of the community there is situated seaside. There is no shortage of great seafood and pristine beaches on this gorgeous island which is a hit with locals and vacationers from all over the world.
Bocas del Toro y Isla Bastimentos

Located on Panama's Caribbean coast, on the north western side of Panama, bordering with Costa Rica, this beautiful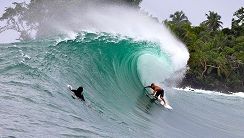 province is made up a large section on the main land and
then dotted small islands stretching into the Caribbean. Gorgeous fine sandy beaches, picturesque Caribbean waters, reefs, with some great surfing breaks are a worldwide attraction. Snorkeling, boating, and diving are just some of the other activities you can expect to enjoy.
Locals have some mixed dialects from Spanish, English, Patois, and aboriginal languages but there are also a host of expats making a living or enjoying retirement in this beautiful Caribbean paradise as well. Great ocean front hotels but nothing over the top, keeping in step with the laid back easy going ambiance of life in the Caribbean are available. Definitely worth the trip as many continually return year after year.
Boca Chica

A quick flight from Panama City, to the City of David in the province of Chiriqui (west from Panama City) and then less than an hour drive south of David, you will find Boca Chica. This gorgeous area is speckled with beautiful islands, each with their
own set of marvelous sandy beaches, along with mainland beaches as well which are easily visible on nearly all satellite maps. Almost all the islands are uninhabited and just waiting to be discovered, island hopping is a popular excursion to try. Some small eco and fishing lodges are available as well as small waterfront hotels for slightly extended stays. This beautiful tropical paradise is largely undiscovered and just starting to catch the ears of beach lovers and travelers all over the world. Sport fishing, surfing, diving, snorkeling and hiking are just a handful of some of the adventures that are available.
Las Lajas Beach

A wide Beach of 10 miles long (16km), lined with palms, stretches down the coast of southern side of the province of
Chiriqui. Hotels, Inns, quaint bed & breakfasts, and
easy driving distance from the city of David (a short flight from Panama City) makes this one of the most popular beaches in the province of Chiriqui. Sun lovers and surfers will delight with this beach spot. No huge condo developments or expansive giant resorts.. Just a small village nearby, huge beach and all the quiet amenities expected from this beautiful sandy beach with rolling waves to take away any worries.
Great surfing swells, diving, wildlife, hiking, and so much more are available in this growing quiet beach community. Plans are in the works for a possible marina and some housing developments, however, that is still in the planning/development stages for now, so future investment will be possible. For now, this gem on the Pacific will remain as it is, a great beach hardly disturbed, waiting for travelers from around the world.
Isla Coiba National Park

Far removed from civilization, with only one ranger station that allows for overnighters, this is tropical nature at its best.
This island in the Golf of Chiriqui was once home to convicts with a large prison, but has been closed down long ago. Nature has now taken over once again.
Much of the island and surrounding islands are completely untouched, with great natural beaches, amazing sea life (many are tasty to eat) and wild life to keep any traveler busy for years.
Access to the park is via boat, approximately 1.5 hours from Santa Catalina. There are tour operators departing all along the Pacific Coast which can arrange for travel to this island paradise as well.
Santa Catalina Beach

If you are a surfing enthusiast, Santa Catalina Beach in the southern tip of the Province of Chiriqui definitely should be on
the list. Being a small coastal community, with a few Inns, small hotels, and
cabins for travelers, this is a definitely a quiet surfing paradise.
Driving by car is possible, however, it would be wise to plot the trip with precise directions before hand as some of the small towns that must be navigated on the way may have to detours in the route. Watch out for possible farm animals on the road and other critters as well as pedestrians.
A beautiful rural, rustic beach and surfing paradise still largely unknown to the average traveler/vacationer.
Pedasi

Pedasi is a small town in the Province of Los Santos, jutting out on a large peninsula, this town is literally surrounded with
beaches. Pedasi being slightly inland, some of the best beaches are just a quick
drive away. You can hit one of the most popular beaches in Panama, known specifically for the amazing surfing found here, Playa Venao is climbing the surfing charts faster than ever. Surf culture is big in this area. This area is being featured in one article because of the multitude of beaches available. For example, just a few kilometers away from Pedasi is Playa El Arenal, Playa Toro, Punta Mala, Playa Los Destiladeros..just to name a few. There are many more beaches in this area, many more! Miles and miles
of beaches, most of them hardly touched, just waiting to be explored. You can
enjoy kite surfing, fishing, diving, snorkeling, sunning, river rafting, jungle tours, and so much more. For places to stay, there are beautiful small hotels, B&B's, country Inns and beach front cabins.
Getting to this magnificent spot will take maybe a day's drive from Panama City…maybe less. Expect approximately 7 hours or so, depending on traffic, road conditions and weather. Otherwise it's a great scenic drive down the Pan-American Highway, heading west, and then taking a diversion to the town of Chitre and then further south to Las Tablas (home of some of the biggest parties during Carnival) and then on to Pedasi.
Playa Farallón y Santa Clara

This area was once a small fishing village with nothing more than open beach a few small towns in the surrounding area, but
exploded into the forefront of the top beaches in the country and great vacation
paradise with the rise of some fantastic All-Inclusive Resorts which started in the 2000's and has been growing by leaps and bounds ever since. Located on the Pacific Coast, approximately 2 hours by car from Panama City down the Pan-American highway, makes this easily accessible great for day, weekend, week-long visits or permanent living. The primary beaches of Farallón and Santa Clara are literally just a few minutes drive from the highway.
More recently, a new International Airport has opened, Scarlett Martinez
International Airport, which is flying in tourists on a weekly basis. This airport is located next to many of the resorts and luxury beach communities in the area adding to the desirability & accessibility of the area.
Miles of white sandy beaches, some mixed with dark volcanic sand, tall waving palm trees, warm Pacific waters, resorts, hotels, world class golfing, sport fishing, restaurants, pristine beach communities consisting of a mix of houses, beach front condos and so much more, this area has something for everyone.
Among the beaches and resorts available to explore, there is Playa Santa Clara, Playa Farallón where you will find the Sheraton Bijao All Inclusive Beach Resort, the All Inclusive Royal Decameron Resort, then further east down the beach is Playa Blanca, home to the All Inclusive Playa Resort as well as the Riu All Inclusive Resort, Wyndham Grand and then next door is the JW Marriott Golf and Beach Resort, and the ever popular beach community of Buenaventura just to name a few. Nearly all these areas have residences for sale as well for those who want to live their days relaxing next to a gorgeous beach, gated and secure, and with options for renting while you are away for an added revenue.
Playa Coronado, Playa Gorgona, Playa Malibu



Playa Coronado, Playa Gorgona and Playa Malibu are some of most unique and popular beach communities with a huge
stretch of mixed white & volcanic beach connecting them. Barely an hour from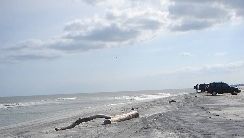 Panama City, this area has become extremely popular with locals and expats for either permanent living or having a second property by the beach. The small city of Coronado has almost everything one could need including shopping, casino night life, hospital, banks, pharmacies, hardware stores, great restaurants and the added safety of a gated community. There is also a large expat community located there, consisting of foreigners from all over the world. English is more widely spoken as well as many
other languages. Much of the signage is in English as well, making it easy for the
non-Spanish speaking crowds to navigate.
The Coronado Golf Course is also world renowned, providing a great golfing challenge to golfers of any level. The Coronado Equestrian Club is also a popular attraction as well, complete with stables and huge pastures for the horses. There are a number great hotels available in Coronado, including the Corowalk Inn, Coronado Hotel & Casino, and the All-Inclusive Blue Bay Hotel to name a few. There are also a number of Bed & Breakfasts as well which are cute and comfortable.
Walking down the beach, heading east from Coronado you come to Playa
Gorgona (cross a small river), which links into the sleepy town of Gorgona. When staying in Gorgona, its possible to get large swaths of beach to yourself during the week days, and even sometimes on the weekends. Crowds won't be a problem here at all. The Gorgona community is beginning to experience a large growth, including a new shopping mall and several beach front condo high-rises.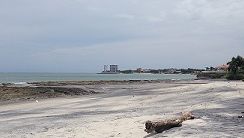 In a few years, this beach front community may rival Coronado. Walking further down the beach comes Playa Malibu which is also connected to the growing town of Gorgona and has a number of small restaurants, bars (some right on the beach) and small hotels and Bed & Breakfasts.
All three of these areas (Playa Coronado, Playa Gorgona and Playa Malibu), have some excellent ocean front or beach access properties available for some incredible prices.
Punta Chame
An up and coming area jutting out into the Pacific Ocean, Punta Chame is attracting more and more visitors and residences
than ever before. Located about 60 miles west of Panama City, just south of the
small town of Bejuco, this long sandy peninsula has so much to offer for beach lovers, including beautiful white sand. A number of B&B's, small hotels, new residential developments, resorts and some great beachfront restaurants are just some of the great amenities found here. Kite boarding on the ocean, windsurfing, wakeboarding, diving, fishing, wave runner rides, and surfing are just some of the popular water sports available. It is also a little more dyer in terms of less rain, being in the 'Dry Arch', less humidity and great ocean breezes.
Day trips are available for a quick escape from the city, with transportation leaving fairly early in the morning, giving sun worshipers ample time for enjoying the long stretch of beach that is both exciting and relaxing.
Playa Bonita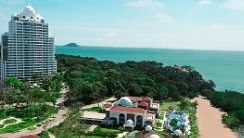 Barely 20 minutes from Panama City, on the western side of the canal, just south of the specialized commercial/residential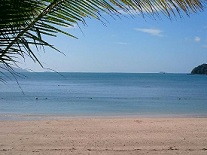 zone of Panama Pacifico (formerly Howard AFB… long ago), is Playa Bonita. A beautiful long stretch of tanned colored sandy beach with both luxury All-Inclusive Resorts (Intercontinental Playa Bonita Resort & Spa and The Westin Playa Bonita) and highend residential areas available to be explored and enjoyed known as Casa Bonita (properties available as well).
With the proximity of the city so close, this is an excellent vacation and permanent residential area, enabling the relaxing life of beach front vacationing/living with the ease of all the amenities of the city just minutes away.
Isla Taboga (Bay of Panama)
Closer to Panama City, in the Golf of Panama, also accessible by a Ferry from Amador (only 11 miles/17km), lies the island
of Taboga (also known as the Island of Flowers) which boasts natural white
sandy beaches and during low tide, there is a sand bridge to the small island of El Morro, on the north western side of Taboga. Great beaches located all over with warm inviting waters and great fishing are just some of the fun you can enjoy here. Great and fascinating history, coastal villages and great real estate/architecture, wonderful restaurants, cafes and bars as well as small hotels and villas are some of the other attractions found here. This island is also known for great boat tours, sailing, whale watching, snorkeling, nature and walking tours.


Las Perlas Archipelago – Perl Islands (Bay of Panama)
Made up of about 200 islands, located approximately 1.25 hours by ferry from Panama City in the Bay of Panama, huge
stretches of beautiful beaches await. Many of the larger islands such as Isla del
Rey, Contadora, Saboga and Viveros are inhabited with some tourism (hotels, restaurants..etc), however many of the others are not. Some might have small fishing villages however there is some great untapped beaches to explore.
Transportation is generally by Ferry which leaves at various intervals during the week and every weekend to and from the city to a number of the islands making these island beach paradises easily accessible.
Map of Panama - Zoom to Find the Beaches!!